How to Purchase

U.S. and Canada
Outside U.S.
1-800-780-7836
1-617-225-0080
+1-617-225-0080


Home /
Products /
3-D FlightPath
/ Automated Fixed Camera Edition
Overview
When automatic capture and calculation of flight dynamics are required, today's range engineers use the new Automated Fixed Camera edition of the 3-D FlightPath software. Built on the same platform as the very accurate Fixed Camera edition, this software package removes the operator from the shot- to-shot calculations. Just set it up in the morning, press Start, shoot all day, press Stop, and pack up at night!
Originally designed for small-caliber automated testing, this edition is now used at ranges to study impact characteristics of ballistics with vehicle armor and with personal armor. It is used by gun manufacturers to test different types and manufacturers of ammunition. It is even used by the Canada defense forces to qualify ammunition for their soldiers.
Software Features
Uses the same very accurate algorithms as Fixed Camera Edition
All projectiles are auto-tracked - no user required
Data is configurable - stores position, speed, and orientation to a database immediately
Non-contact, non-invasive technology based on pairs of stereo video cameras
Works with any brand of high-speed cameras
Proven, tested, benchmarked and regularly in use at multiple ranges around the world
Simple calibration technique takes minutes per day
Extensive documentation set
No restrictions on where cameras are placed; easy to set up and break down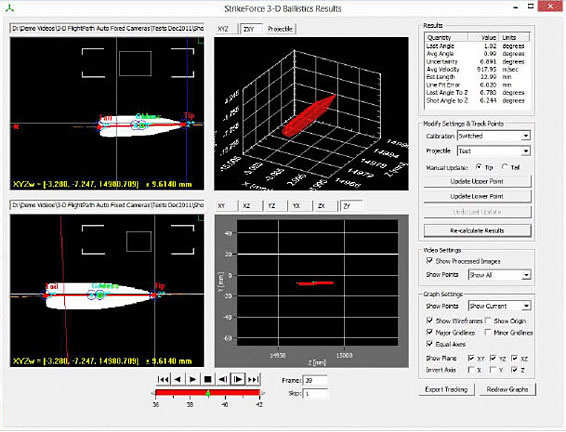 This 3-D FlightPath edition works with any pair of high-speed cameras. The two images are automatically downloaded into the software during a test shot. Using the pre-calibration data (flight line, volume, camera position, etc.), this software will compute pitch, yaw, velocity, acceleration, deviation from a flight line, uncertainty, orientation just before impact and more. The data is stored in a database and the system is reset for the next shot - no user intervention required. At the end of the day, the database is retrieved with all the data. The Automated Fixed Camera edition allows range engineers to focus on the test, not on the instrumentation.